So, what's in store for us Discipline Priests in 4.3?
The New Outfit
The Vestments of Dying Light are available in tasteful gold, blue or red, depending on your raiding tier of choice.
After my initial "WTF!" reaction, I sat and looked at the set for a while and it really grew on me. There's definitely something Priestly about it, but not the gentle, friendly image of a Priest but instead has us putting our serious face on (literally), filling ourselves with smouldering, barely-restrained power of the Light and getting prepared for the grave business of taking on Deathwing.
How badass it'll manage to look on a gnome though is anyone's guess…
Set Bonuses
First, the bonuses themselves:
Healer, 2P — After using Power Infusion or Divine Hymn, the mana cost of your healing spells is reduced by 25% for 23 sec.)

Healer, 4P — Your Power Word: Shield has a 10% chance to absorb 100% additional damage and increase the mana granted by Rapture by 100%, and the duration of your Holy Word abilities is increased by 33%.
So, let's take a look in detail.
The 2-piece bonus is handy, but also a bit of a head-scratcher. It's been pointed out on EJ and elsewhere that this presents Disc Priests with something of a question: should we be casting Power Infusion on cooldown just for the mana reduction, or should we be saving it for when we actually need the throughput.
PI has a split personality already though, with the throughput and mana saving components. I find myself mostly using it as a throughput cooldown, popping it when I shift to the healing-intensive part of a fight, and since that's where the expensive spells (PW:S, FH, PoH) hang out, I figure I'm probably getting a good benefit from it.
The thing to remember is to make sure you're using it vaguely sensibly, i.e. when you're going to be healing hard, and make sure you get as many uses as practical and don't leave it languishing on cooldown unless you know there'll be a point where it's vital.
It's also attached to Divine Hymn, which works for the same reasons – we'll be casting DH when things are getting tight, and this mana cost reduction will help offset the costs of healing people up afterwards.
The 4-piece bonus for Discipline is a bit of a conundrum. The way it works seems to be that one in every 10 times you cast PW:S (on average), it'll absorb twice as much and give a double-sized Rapture proc when it breaks.
This in itself is a decent bonus: Disc Priests bubble someone at least every 12-15s for Rapture, more often if you're tank-healing, and in the Dragon Soul you might well find yourself with moments where throwing out bubbles more frequently pays off, so as long as you're using PW:S regularly you should get the benefit. You will have to be careful when using PW:S as a pure raid-healing spell though, because a larger bubble is less likely to be totally consumed and possibly end up preventing what might otherwise have turned into a Rapture proc. It's fine for tanks, but on the raid you may want to think about where you PW:S to make sure it will be fully absorbed. Depending on your Mastery you may need a hit well over the 60k mark to burst it.
The Patch
As usual, very little for Priests in the patch notes, although what there is is definitely worth a look:
Divine Hymn now affects 5 targets, up from 3.

Discipline
Atonement will now account for the target enemy's combat reach when calculating proper range, enabling it to be used on large creatures such as Ragnaros and Ala'kir.
Divine Aegis has a new spell effect.

Holy
Spirit of Redemption has been rebuilt to address a few functionality issues and make it more responsive. Spirit of Redemption otherwise remains unchanged.
State of Mind has been redesigned and is now called Heavenly Voice. Heavenly Voice increases the healing done by Divine Hymn by 50/100%, and reduces the cooldown of Divine Hymn by 2.5/5 minutes.
Guardian Spirit's healing bonus has been increased to 60%, up from 40%.
Holy Word: Serenity now has a cooldown of 10 seconds, down from 15 seconds.

Glyphs
Glyph of Circle of Healing now also increases the mana cost of Circle of Healing by 20%.
For Disc, the big change of course is the new Divine Aegis bubble! Have some videos:
On the left is the "old DA" applying and then persisting, and my "new DA" video from the PTR is on the right. Unfortunately the old DA procced from a Glyph of PW:S crit, so there's the PW:S graphic in there to confuse things, but the effect is clear enough.

And here's the proc effects in close-up, old on the left, new on the right: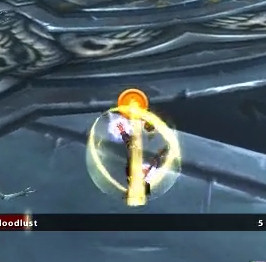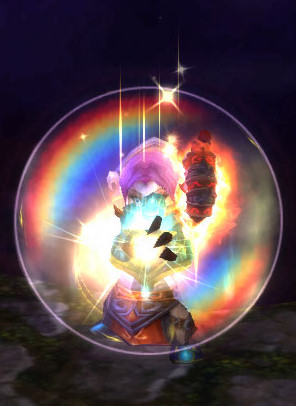 That new still is so damn tasty I'm using it as my avatar just about everywhere I can. It looks so sweet!
The old Divine Aegis used to wrap beams of light around the player as the bubble appeared, while the new one sort of expands a rainbow-coloured soap-bubble effect instead. I can see how the old effect could end up looking very flashy and noisy on screen, whereas the new one, while still really cool and colourful, has less point movement and is less bright overall.
I was really thrilled to be getting something all-new, until I noticed that this same soap-bubble effect procs when a Mage uses Arcane Blast (it's Arcane something anyway) on a mob. Still, it looks damn good, even if it is borrowed. It'll look better on us anyway!
OK, more seriously, the Atonement change. Finally, two tiers later, Atonement works off the boss's hitbox rather than the boss's centre. I presume there must have been something big and scary and technical preventing this change from making it in earlier, or perhaps Ragnaros brought it to a head in a way that Al'Akir didn't manage to. Anyway, good news.
Finally for us, a small buff to Divine Hymn for all Priests, with it healing 5 targets rather than 3. That should help its throughput for both specs, although Holy gets a much improved version as their new raid cooldown: double the healing and a 3-minute cooldown means Holy has its own Tranquility to play with.
My initial reaction was (of course) to get all angsty and bitter that Holy gets buffed and Disc doesn't, but actually there have been several fights I've ended up staying Disc because of the combination of PW:Barrier and an AoE pulse. Now that Holy gets a powerful raid cooldown of its own the dual-spec option opens right back up again, and that can only be a good thing for the class. It's no nerf to Disc, just a rebalancing of the specs in the sorts of bursty fights where Disc currently dominates because of a single spell. GC agrees.
Just think of it as another powerful raid cooldown for the rotation and enjoy it.
Other Healers
We need to know how our other healing friends will be changing this patch too, so we know how to work well with them and play to our respective strengths.
Shaman are staying more-or-less the same in terms of playstyle, although they will be getting a buff to their Ancestral Healing talent:
Ancestral Healing now also causes the shaman's heals to increase the target's maximum health by 5/10% of the amount healed, up to a maximum of 10% of the target's maximum health, for 15 seconds. This effect does not stack if multiple Restoration shaman are present, and does not apply to heals from procs.
The wording suggests that this doesn't need a crit and is a bonus attached to the Ancestral Healing talent, not the buff, so it shouldn't matter whether the tank has Ancestral Fortitude (the damage reduction buff) or Inspiration on them.
Your Shaman should try to keep up the Ancestral Vigor buff (the 10% HP buff this creates) on tanks. On the PTR, when it fell off it dropped the player's maximum HP back down again, but also reduced their current HP by the same amount, which was certainly not ideal because it meant that extra healing done while the buff was up was lost again when it expired; hopefully this has been fixed before going live.
Druids don't have much new this time, although they are getting small nerfs to Wild Growth, they shouldn't change how they heal much.
Wild Growth healing has been reduced by 20%.
Glyph of Wild Growth now also increases the cooldown on Wild Growth by 2 seconds.
Paladins are getting a revamped version of Holy Radiance:
Holy Radiance now has a 3.0-second cast time, no cooldown, and requires a player target. That target is imbued with Holy Radiance, which heals them and all group members within 10 yards instantly, and continues to heal them by a smaller amount every 1 second for 3 seconds.
This, combined with Light of Dawn, means they will be capable of some pretty loopy (albeit costly) burst AoE numbers when the raid is all stacked up, so bear this in mind when considering healing assignments. It might be that we Discipline Priests shift more onto tank-healing when the fight mechanics favour the new HR, and swap with our Paladin brethren when the raid is more spread out.
Paladins are also getting a small mana nerf because Judgement will no longer return 15% of base mana. This shouldn't be too much of a problem, and it'll free up a lot more GCDs for them.
Possibly Related Posts: