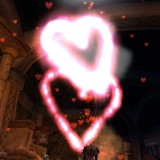 Last week my favourite tank and I got married! She's an amazing person and I'm extremely honoured to be able to call myself her husband (still getting used to the sound of that…)
As if that wasn't enough, when we got back home we found ourselves invited to an in-game party organised by the guild, complete with excessive quantities of alcohol, drinking games to go with it, and of course awesome wedding presents! We're now the proud owners of his and hers Mekgineer's Choppers, amongst other things.
Seriously, <Abraxas> is such a great bunch of people. Thanks a lot to all of you for giving us such a fun night!
Possibly Related Posts: